''Winter is the time for comfort, for good food and warmth, for the touch of a friendly hand and for a talk beside the fire: it is the time for home.'' - Edith Sitwell
It's the time of the year to sink in the sofa with a mug of hot chocolate after work or a day out in the cold. The days are short and the nights are drawing in. What's better than stay warm and cozy in our own home !
We have picked a few essentials and share some tips on how to get cozy on the lazy winter nights when all you want is snuggle in your warmest throw and stay out of the chill.
Pudding Sofa in Burnt Orange Plush Velvet , £1,195, Loaf.
It can only be the perfect sofa for snuggling. Find yourself a sofa that fits in the space for it traditional sofa or a modern contemporary corner sofa. Not to forget that it should have plenty of space for all your family to sink in and get cozy on the chilly winter evenings.
Top Left : Knitted Tasselled Pillow, £78, Anthropologie
Top Right : Bodie Puff Cushion, £88, Anthropologie
Bottom Left : Handknit Shibori Pillow, £68, Anthropologie
Bottom Right : Ariany Pillow, £98, Anthropologie


To have a cozy night in, you have to feel super comfortable and relax. Grab a few cushions and pile them up on the sofa and sink right in, make sure you have your remote control and a warm drink ready because you won't be getting up after you have squished down! Cushions not only make the room look cozier, the knitted and fluffy cushions also help when the temperature drops.
Tonal Faux Fur Throw, £70-£90, Next
Left : Snow Dusting Throw, £128, Anthropologie
Right : Praire Chunky Throw, £248, Anthropologie

The great things about throw during winter is not only they used to keep you warm and comfortable, it also works as a accessories in the space. We especially love the faux fur throw and knitted throw as they could save the hassle of folding them after. It is effortlessly chic just to leave them how they were.
Winter Indulgence Candle, £125, The White Company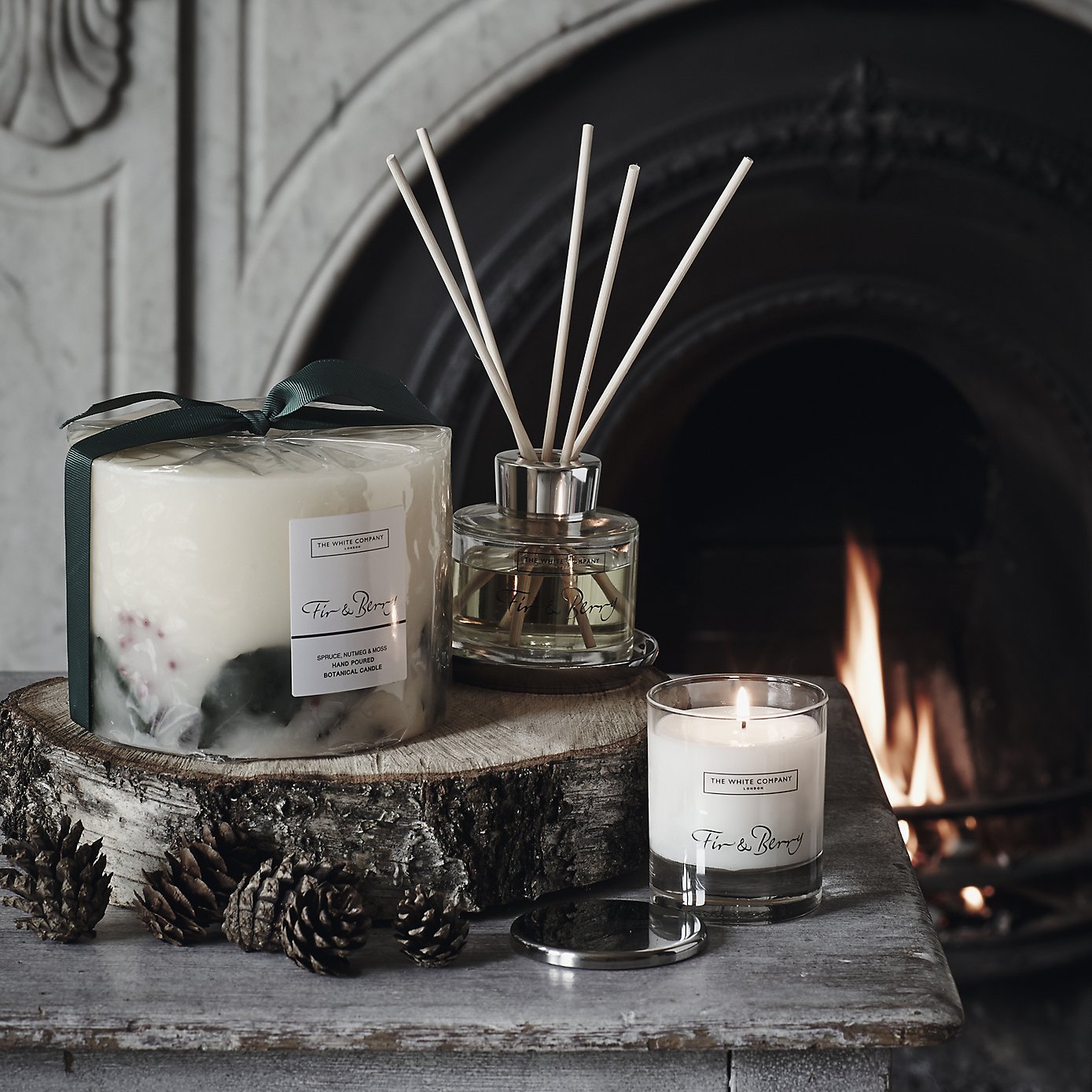 Fir and Snowberry Candle, £35, The White Company
Don't you just love to feel relax and wanted to de-stress after a long day of work? Candles and fragrance are definitely the essential for a cozy night in. Light up the scented candle and let the light and scent fill the whole space, then sit down and relax.
Colbert Glass and Brass Table Lamp, £65, John Lewis
Bristol Table Lamp, From £60, Heal's
Ebb & Flow Lighting Range
, From £190, John Lewis
Lighting is the key to create a relax ambience to the space. Opt for subtle lighting or dimmable lighting so you could give the space a warmer and calmer feel. Instead of having one ceiling lamp in the entire living room, try to have a different variation in a room if the space allowed.
Flair Rugs Pearl Dark grey Shaggy Rug Range
, From £84.99, House of Fraser
Rugs are definitely useful during winter. If you have hardwood or vinyl flooring, you would know how cold the surface is. Rugs are often used as a focal point of a space as well as differentiate the area., therefore rugs will come in useful during the winter months. Rugs will also create a relax, warm and inviting environment especially when positioned in the living room or near a fireplace.
Now that you have all the essentials to kick start the winter - it's time to put some logs in the fireplace, sit back and relax!